Award-Winning Hardwood Floor Installation in Berrien, St. Joseph county, and surrounding areas
Hosting game nights, birthday parties, back-to-school bashes, and more can be exciting unless pets and children have treated your hardwood floors like the ultimate playground. Whether you're opening your home to buyers or in-charge of the next gathering with friends, we understand you want to feel confident and excited about letting friends, family, and even strangers into your home.
At Lumberjack Flooring, we offer the most exquisite hardwood floors, sure to wow your guests. Not only will our hardwood flooring installations leave your home looking like new, but your home's value can increase as well. Our team of experts works with you to find the perfect stain, finish, and sheen for your home, effortlessly installing the flooring to minimize disruptions to your daily life. If you're interested in installing fresh, elegant hardwood floors, call us at (269) 247-5167 for a free quote!
What to Expect from Your Hardwood Floor Installation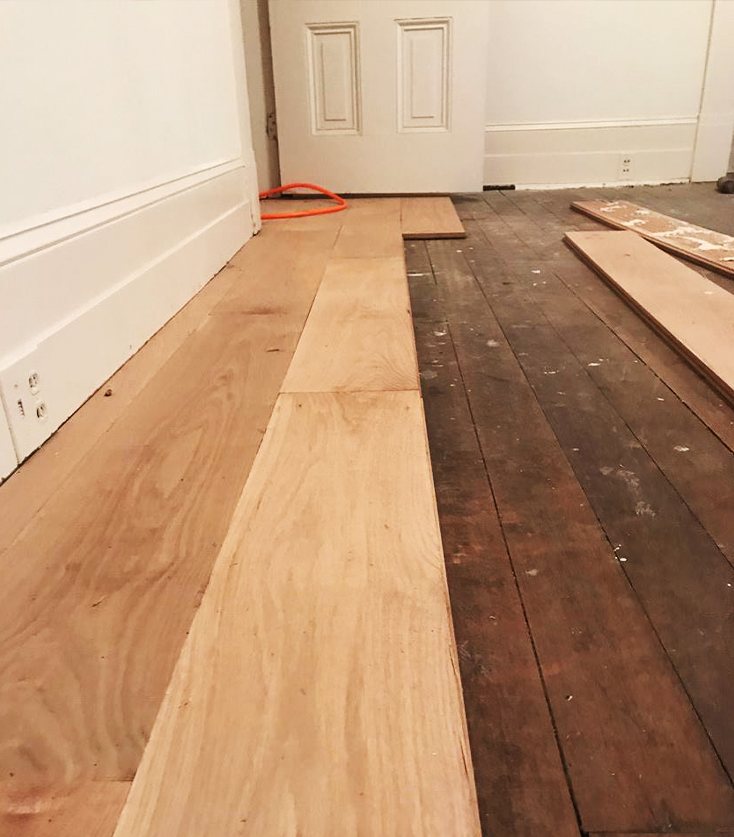 At Lumberjack Flooring, we offer our customers only the highest quality hardwood. In fact, we source our hardwoods from the cool Northern forests where the trees grow slower. This slow growth and our precision milling process make for more stable, sturdy flooring in your home. And we use the highest quality glue sourced from Germany, combined with precision cleats, to make your floor as solid as possible. After our sourcing, you'll have the opportunity to hand-pick your flooring. If you need help deciding, our experts can offer recommendations that will complement your decor and bring your dream to life.
Hardwood Floor Installation FAQs
What is the cost of hardwood floor installation?
Your hardwood floor installation depends on the square footage, labor costs, and any customizations you need. Lumberjack Flooring is dedicated to clear, transparent, up-front pricing every time. We offer free quotes for all our offerings, so you're never surprised.
What is Your Hardwood Floor Installation Process?
You'll choose your hardwood flooring at our warehouse, and we'll begin to prepare for installation. During the entire installation process, our professionals try to minimize any disruptions or disturbances to your daily life.
We can remove or drape any furniture, furnishings, paintings, or other items from the room while the wood acclimates to its new environment. We use a dustless containment system to minimize dust and dirt as we install your new flooring. Afterward, our hardwood flooring installers will clean up, put everything back in its place, and offer instructions for proper maintenance.
What are the signs of bad hardwood floor installation?
Though DIY hardwood floor installation may seem like a breeze, it's very easy to experience cracks, cupping, crowning, or bucking. When not installed properly, your at-home hardwood installation can quickly cost you more than you originally planned for.
Instead, count on the professionals at Lumberjack Flooring to install your hardwood floors correctly the first time. We ensure that all our wood acclimates to the environment before installation to avoid problematic expansion or contraction. To learn more about our installation processes and how we can fix any trouble-areas in your home, contact us today.