Premier Choice for Hardwood Floor Refinishing in Berrien, St. Joseph county and surrounding areas
Homes are something special. For many, some of the best memories take place inside their homes. But the hustle and bustle of kids, pets, and everyday life can quickly take a toll on your floors. Over time, your hardwood floors can become scratched, faded, stained, and even discolored.
Luckily, if you want to update your floors and remove unsightly marks, Lumberjack Flooring can help get your hardwood floors looking like new! In fact, old, scratched, and worn down hardwoods can be refinished up to seven times, so no matter how often life happens, you can feel proud of your hardwood floors. Whether you're looking to transform your floors or just need a simple repair patch, we can effortlessly tackle all your refinishing needs at Lumberjack Flooring.
What to Expect During Hardwood Floor Refinishing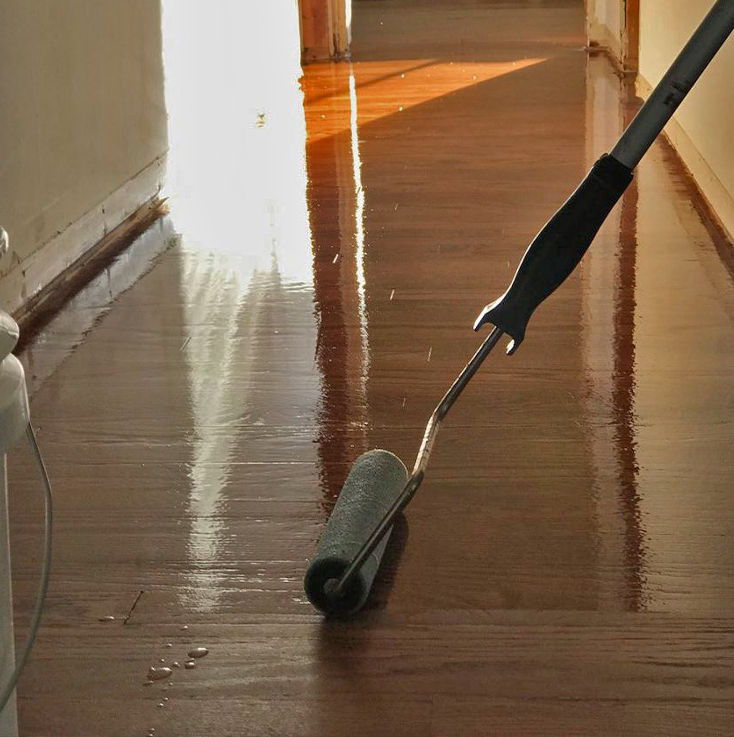 Before the process begins, our hardwood floor refinisher team will analyze and evaluate your flooring. We'll ensure that any surface-level stains, discolorations, and other eyesores can be improved with refinishing and prepare your home for the next steps. We may need to move or cover furniture with plastic to protect against damage, as well as locate electrical outlets. We're dedicated to keeping you and your family safe throughout the process. From our dustless containment system to healthy floor finishes, we strive to keep you and your home clean and healthy.
Hardwood Floor Refinishing FAQs
How do you refinish hardwood floors?
After a comprehensive evaluation, our hardwood floor refinishing team will begin sanding your floors, using our dustless containment system to minimize any dust or debris in your home. Then, we'll apply the stain color, which can match your old flooring or be a completely new shade.
Our dustless containment system keeps you and your home clean and healthy from beginning to end. As we refinish your hardwood floors, our system captures all of the dust released into the air during the sanding process. And all our finishes are health-friendly and non-toxic, so you never have to compromise elegant floors for safety.
What does it cost to refinish hardwood floors?
No home or floor is the same, so costs vary by project. At Lumberjack Flooring, you'll never be surprised by our pricing, and there are no hidden fees or contracts. Our evaluation is at no cost to the homeowner, and complete with transparent, non-binding quote. If you want a free quote for your hardwood floor refinishing, call us at
(269) 247-5167
!
What are the signs I need to refinish my hardwood floors?
Hardwood flooring may seem to withstand the test of time, but surface-level imperfections can quickly add-up and cause major problems. Excessive cracks or dents can lead to uneven, sloping floors, while overexposure to the sun can cause fading and discoloration. If you've experienced any of these symptoms or have recently fell victim to water damage or other hardwood floor woes,
contact the team
at Lumberjack Flooring.