Long-Lasting Hardwood Floor Repair in Berrien, St. Joseph county and surrounding areas
Life doesn't always go according to plan, and accidents happen whether we want them to or not. Whether your kids turn your home into a splash pad or your pet decides they're resistant to potty training, accidents can dampen our moods and our hardwood floors. High foot traffic, excessive amounts of water, heavy furniture, pet nails, and other unexpected objects can all cause damage to your hardwood flooring.
Fortunately, the team at Lumberjack Flooring can help. We'll evaluate your floors, offer a free estimate, and repair your hardwood to its former glory—because children, pets, and weather made their mark. Whether your floors are scratched, scuffed, or worn down, our team can restore and rejuvenate your hardwood floors.
What You Can Expect During Your Hardwood Floor Repair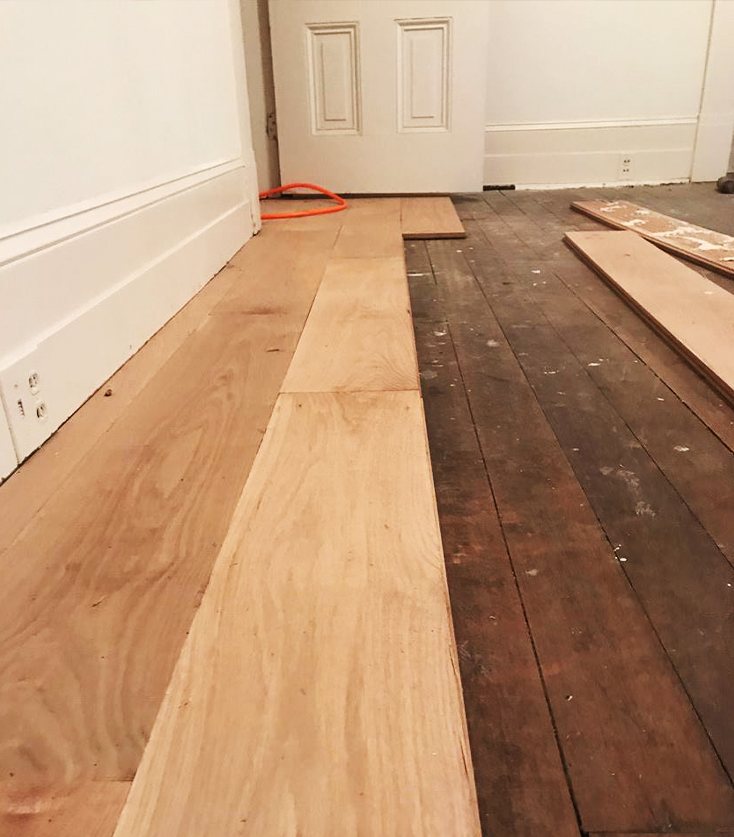 Stuck with old, unsightly, and worn-down floors? Not for long! With Lumberjack Flooring, we use only the most user and eco-friendly finishes, along with a dustless sander to make the process seamless and the results impeccable. If you have areas of your floor that need more extensive repair, we'll arrange your furniture and patch the damages for you. We can assist with moving and storing your prized possessions on-site in a weatherproof container while we complete your project. We even have fast-drying, eco-friendly floor coating options that allow you to continue living in your home while we work (layout permitting).
Hardwood Floor Repair FAQs
What does hardwood flooring cost per repair?
Hardwood floor repair costs depend on the type of repair and the wood you choose to match your home's aesthetic. At Lumberjack Flooring, we strive to be transparent about pricing. Whether we're buffing out a scuff or replacing a few boards, we're always upfront with our pricing and even offer free quotes!
How do hardwood floor repairs work?
While each repair differs, we will always begin with a comprehensive assessment of your flooring and offer recommendations. Then, the real fun begins! We may sand & finish flawed spots, replace boards, fill in cracks with putty, and more. No matter what our experts deem necessary to get your floors in tip-top shape, we'll never do repairs without you knowing why we're doing it.
How do I clean my hardwood floors?
The secret to sparkling, beautiful hardwood floors is proper maintenance and cleaning. We recommend using a broom to clean your hardwood floors daily and vacuuming weekly to avoid dirt, debris, and dander buildup. If you tackle messes as they happen, you won't need to mop often, but if you do, we recommend using a hardwood floor cleaner to get your floors shining.